Passion, it's what drives us, what keeps up our creativity flowing and it's what everyone shares. Everyone has a passion, whether it's movies, dance, photography, painting or something else. To truly enjoy life, I feel that everyone needs a passion, a hobby besides family.
If you have a passion, enjoy it and want to share it with the world, it can be a daunting task. To get started showing in art fairs can be a big hurdle, I hope this article relieves a little of the stress and unknowns and gets your started in your first art show.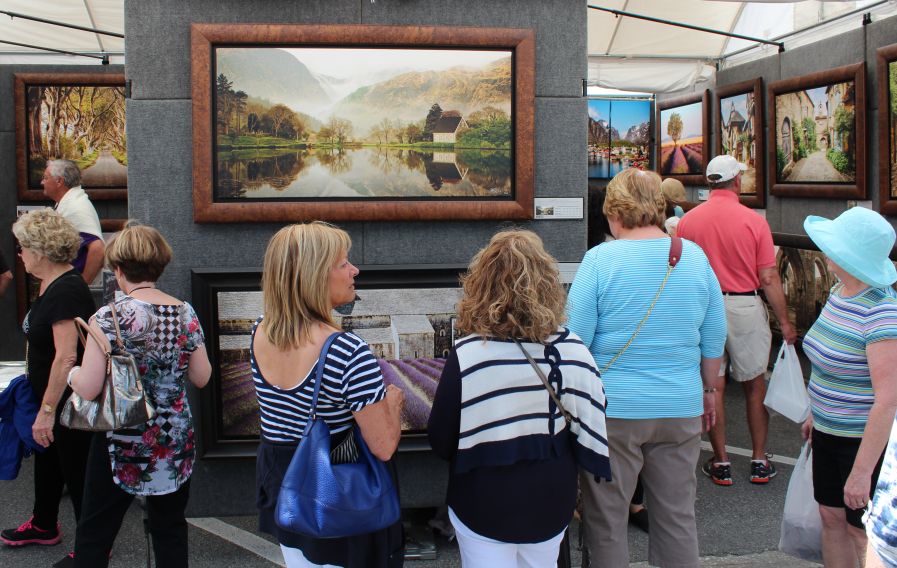 First, you need to know about your Local Art Fairs:
Who can participate: Anyone can take part in them. As long as you have the necessary equipment to host a booth, you are ready to go. Most will require photos of your work, to make sure it is relevant.
What you need: The necessary equipment. It will take a little investment to get started. We will cover that below.
Where to participate: Anywhere! It is very likely that the city you live in, the city next door and so on all host an art festival each year. You can stay just in your city, state or even travel around the country.
Why: There is no better way to show your passion, your art with fellow artist and with the people.
To Get Started
Venues: You will need to find a venue. I would recommend one art fair your first year. If you would like to do more, then to space the two art fairs out, so there is at least a month in between.
There are many places to go to find a venue; check with your local city office, online: Festival Network Online and Art Fair Calendar are a great place to start and you can always ask fellow artists and get their opinions.
Equipment: You will needs certain equipment to start showing at art fairs. Depending on how many shows you are wanting to do, will determine what quality of equipment you will need.
We just spoke how you will need certain equipment in order to participate, as most art show require a professional looking booth. Here is a list of the main equipment you will need.
Pop-up Canopy. This is the most important piece you will need for art fairs. You will need a 10x10 straight up canopy. They can range from $100 at a local Walmart or Target to $1000 for a more solid and durable canopy. This is where you need to spend the money wisely. If you are going to be doing this long term, you will want to spend a little more and get a more reliable one. It is very important that it is a straight up canopy, meaning the legs go straight up and not angled out.
Tables. I would recommend 2 fold in half tables, either both 6ft or one 10ft and one 6ft. These can be found at any local Walmart or Target again.
Table Cloths. You will need to look professional and cover your tables. This is usually required by the art fairs.
Stands. For me, I am displaying my photography so I have about 5 art easels that I use to display my framed pieces.
Cash box. Make sure you pick up a cash box to handle all the money.
Credit Cards. Now a days, very few people carry cash anymore. So it is very important that you can accept credit cards. There are several options out there that are free. If you have a smartphone, you can sign up for an account through Square, http://www.Squareup.com. A great company that I personal use and would recommend to anyone. If you don't have a smartphone, you can use a credit card imprinter to accept cards and then use a company like ProPay or PayPal to accept credit cards.
Weights and straps. Most art fair locations will not be on grass and dirt that you can easily stake and strap your canopy down. If you are on a street, you will need weights. You can accomplish this by filling a tube with cement and strapping it to your canopy or using sand bags. This is very important as I have seen many artists lose their entire booth and art to wind storms.
Signs. You will need to advertise. You can have professional signs printed and websites like Vista Print or other online companies or you can print your own. I would recommend having a banner professionally printed for outside your canopy and then the pricing and other smaller signs created and printed by yourself.
Cost: If you want to keep the costs down, I would recommend the following:
$150 - Canopy at a local store
$80 - 2 fold in half tables at a local store
$25 - 2 table cloths at a local store
$20 - Cash box at a local store
$20 - Sandbags at a local hardware store
$0 - Software and card scanner from Square
$295 - TOTAL to get started
My last recommendation would be to visit a local art fair first, to see how everyone else is setup and showing their work. It will be a wealth of knowledge and help you decide what you need, how to setup and how to sell. Hopefully this should be enough information to get your started.